Action-Packed Week at IBBR!
Tue, Apr 30, 2019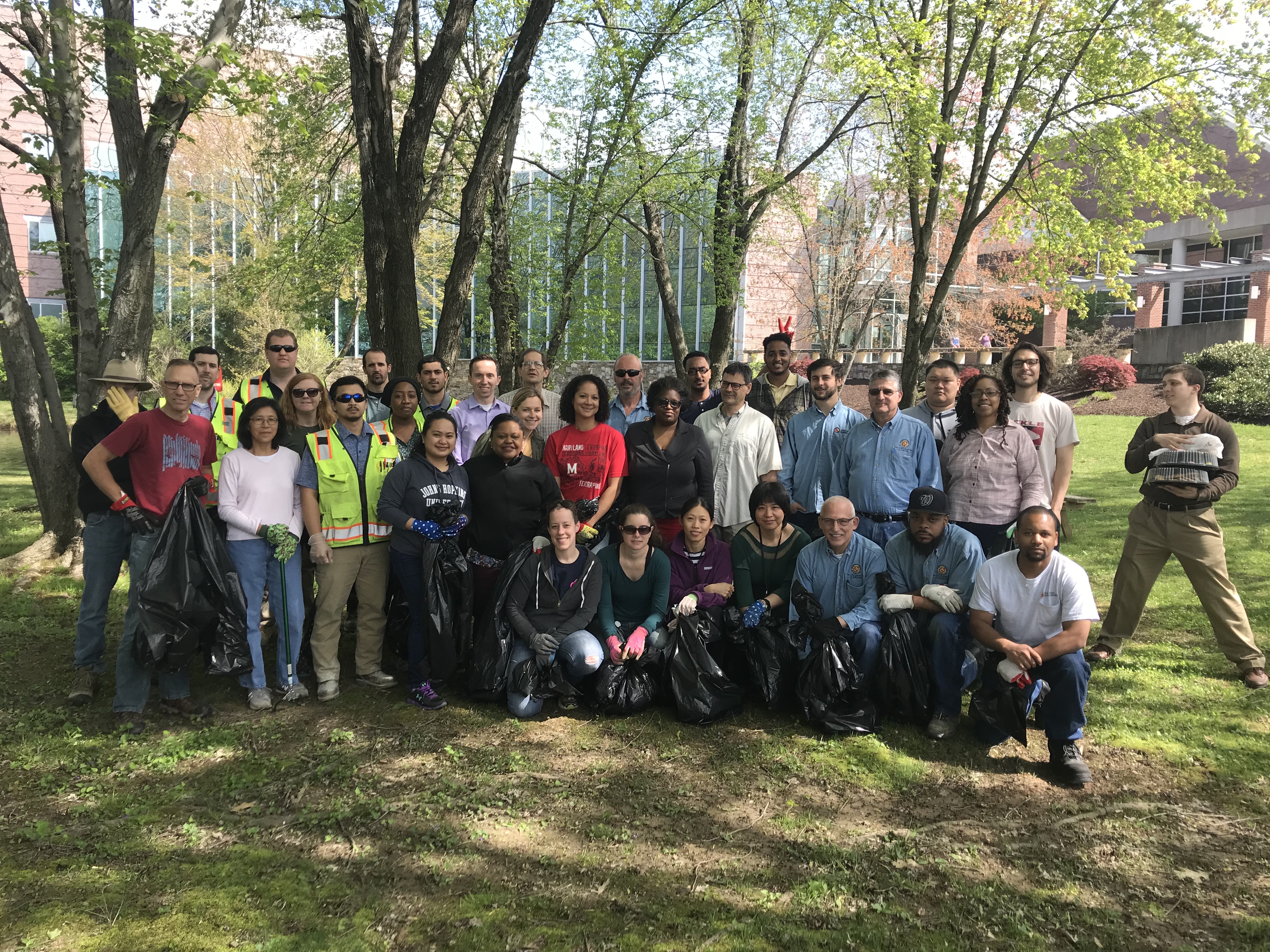 May 1, 2019 -- Last week was a busy one at the Institute for Bioscience and Biotechnology Research (IBBR), thanks to Earth Day, IBBR's first-ever Food Truck Wednesday, and the annual Take Your to Child Work Day. Volunteers canvassing the campus and wetlands for trash, delicious hot lunch options, and wide-eyed children cheerfully zooming along IBBR's hallways made for a lively environment.
The weather was exceptionally cooperative on Earth Day, Monday, April 22, for a trash cleanup day. About 40 volunteers from IBBR, The Universities at Shady Grove (USG), and Gilbane Building Company - armed with long pants and sleeves, trash bags, and carefully applied bug repellent - braved briars, ticks, and poison ivy to scour the IBBR campus and the wetlands and brush shared by IBBR and USG for trash.  The group cleared away 270 pounds of garbage and 64 gallons of compostable material, including everything from plastic bottles, cigarette butts, and Styrofoam food containers to a bicycle tire rim, street light parts, rolls of chicken wire, old tires, and even a steel girder. Gilbane Building Company, general contractor of the new Biomedical Sciences and Engineering Education Facility going in at USG, generously sponsored lunch for the volunteers following the clean-up.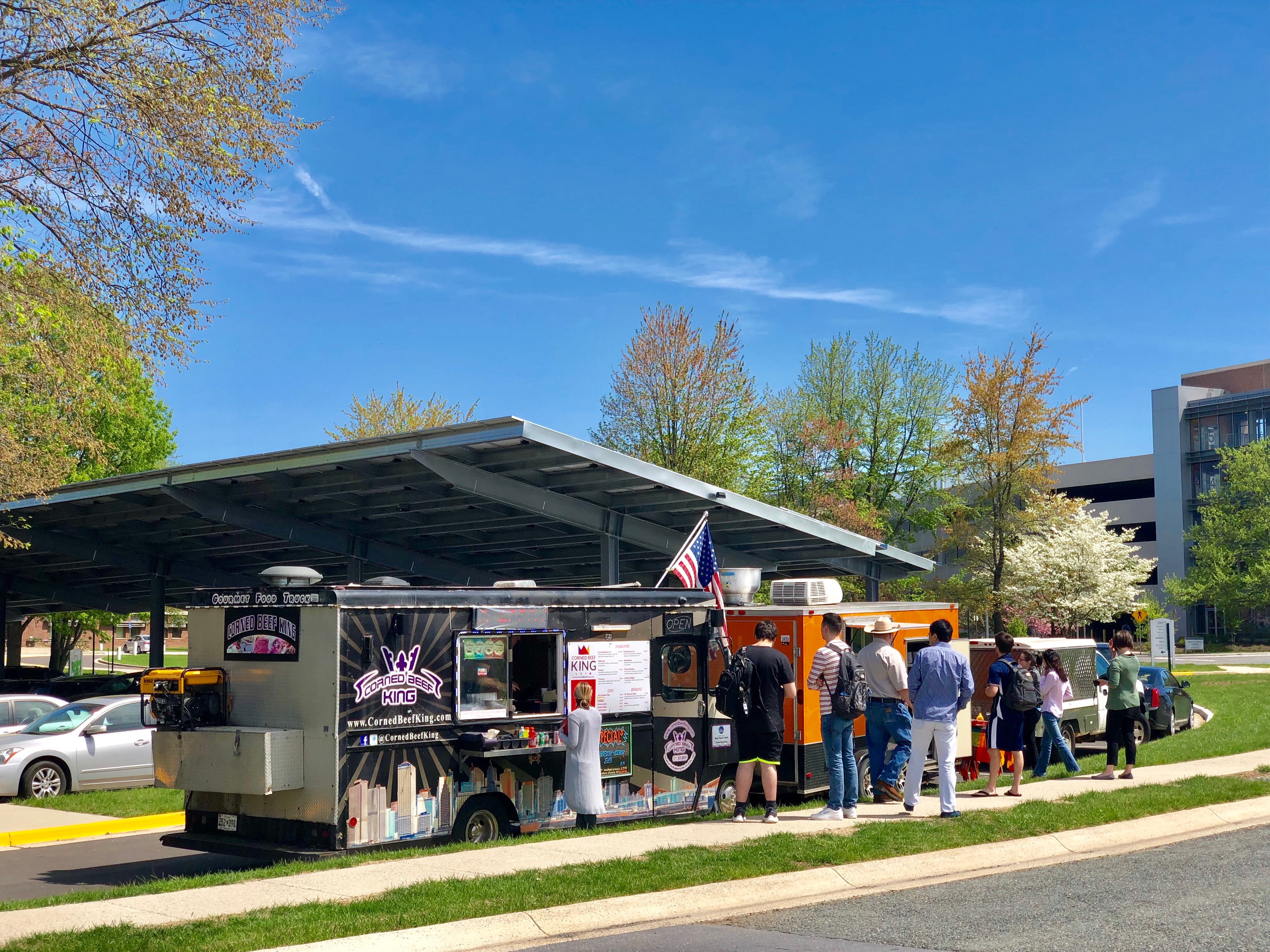 Midweek, IBBR's first Food Truck Wednesday featured Corned Beef King and Fired Up Grill food trucks serving up crowd-pleasing lunches in the employee parking lot. IBBR staff, USG students/staff, and even a few other local folks enjoyed the savory offerings on a perfect day to enjoy their afternoon meal outdoors and watch new baby goslings waddle around the pond. Food Truck Wednesdays will be held the last Wednesday of each month this summer and the IBBR events team has lined up a variety of trucks for the coming months. Watch for the next event on Wednesday, May 29th.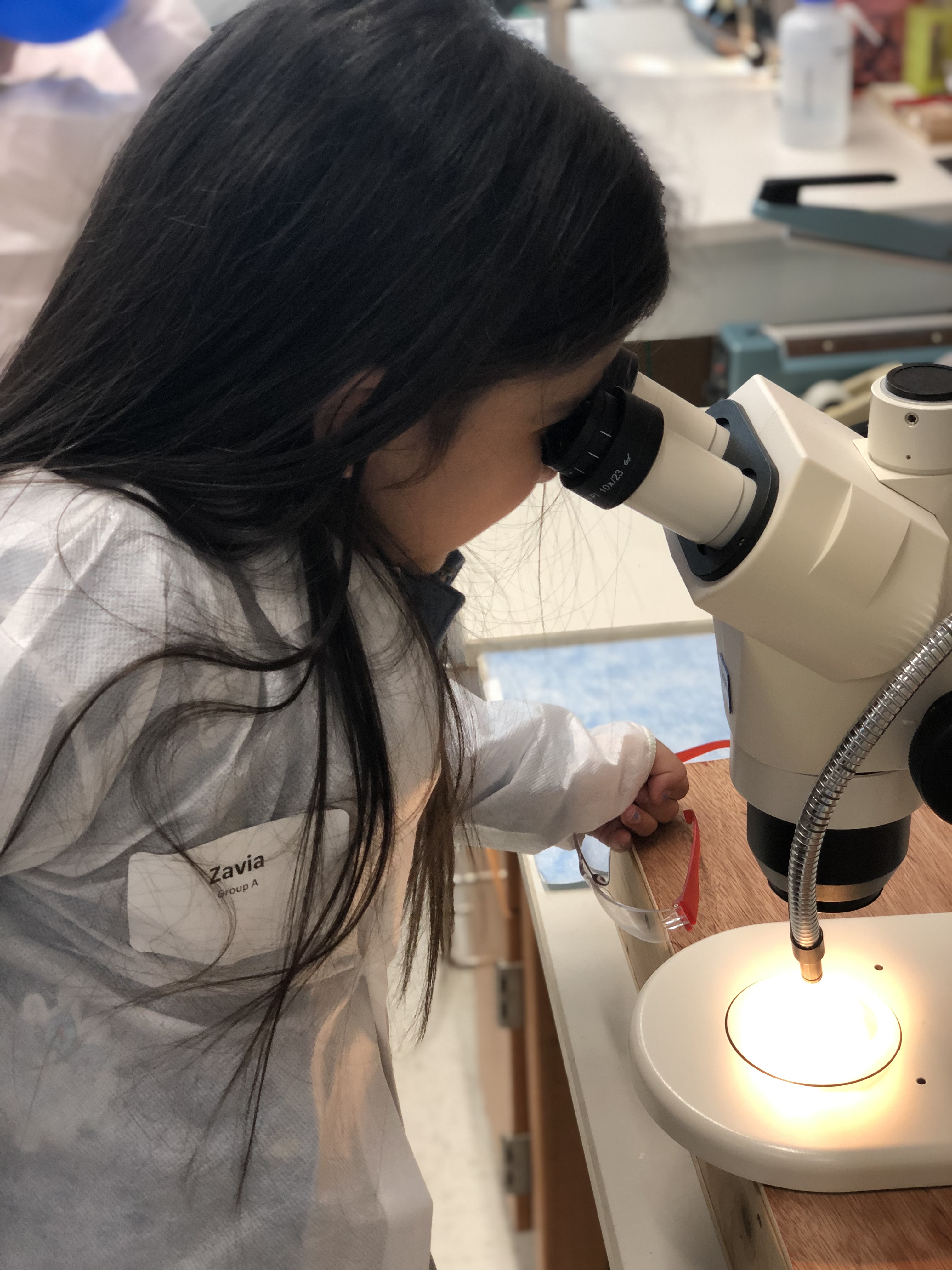 Thursday's Take Your Child to Work Day, started out with a BANG as 19 children, ages 6 to 13, learned about "volcanology" and witnessed an impressive volcano model erupt. The excited group and their parents were then welcomed to a kid-friendly breakfast social and learned about IBBR research through a slide presentation that featured videos of squirming mosquito larvae, bacteria-exploding viruses, and more.
In the MTECH lab, they used dry ice to inflate balloons, and combined calcium chloride with alginate derived from seaweed to make "gummy worms." They learned about the life cycles of mosquitoes and soldier flies with staff from IBBR's Insect Transformation Facility.  The children were all smiles when given a tube of aphid-eating ladybugs to release in their own gardens.  At IBBR's greenhouse, they planted tomato, corn, sunflower, and lima beans seedlings to take home.  Their final stop was to see the powerful nuclear magnetic resonance (NMR) equipment that IBBR researchers use to study the shape of proteins. 
-----
Inquiries:  communications@ibbr.umd.edu