Adit Alreja Receives Dean's Outstanding Teaching Assistant Award
Wed, May 10, 2023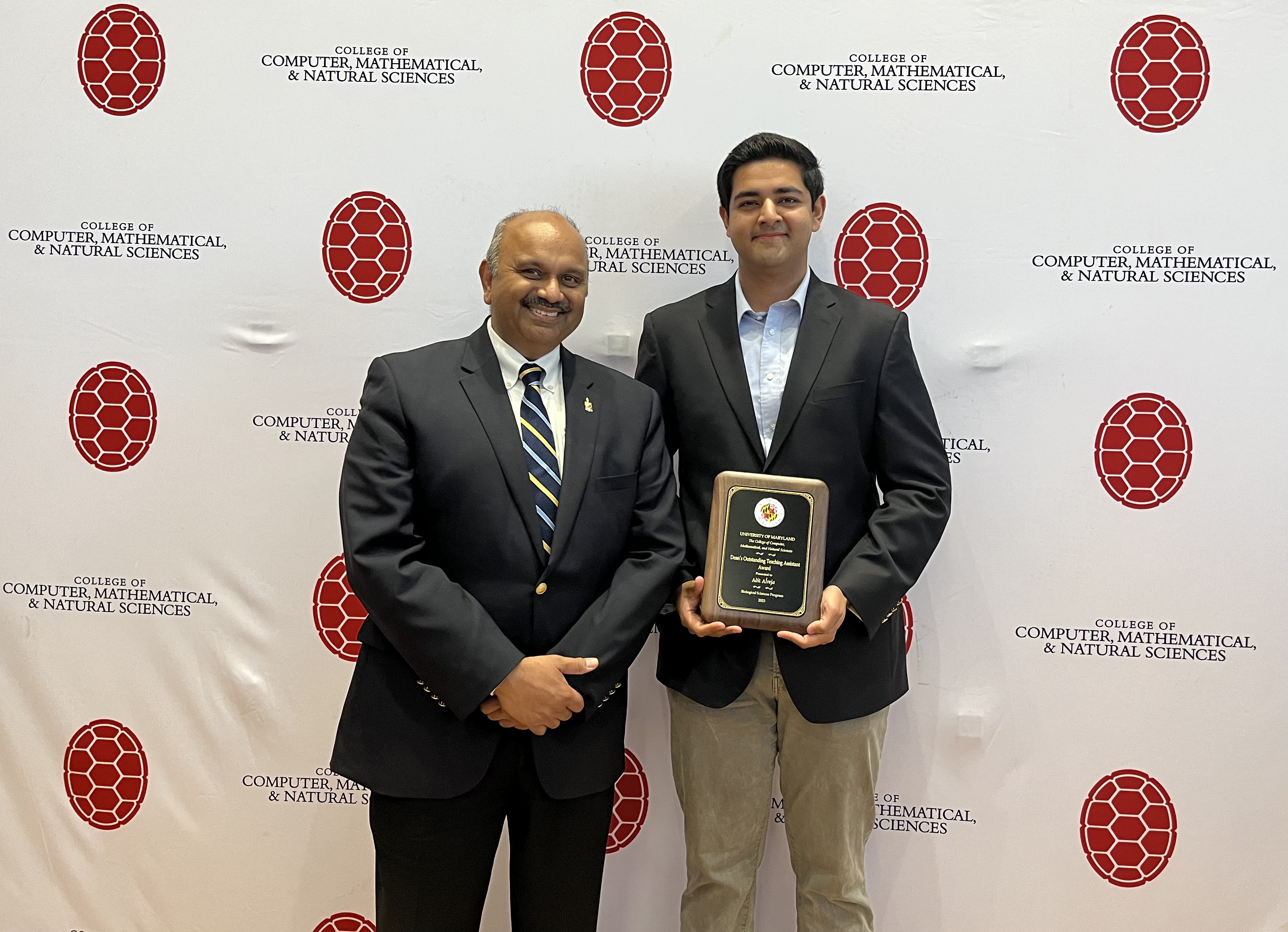 Adit Alreja, a Ph.D.candidate in Daniel Nelson's lab at IBBR was recently awarded the Dean's Outstanding Teaching Assistant Award, an award that is nominated by students.
This award is presented to an undergraduate or a graduate student who acts as a teaching assistant for a course being taught by the College of Computer, Mathematical, and Natural Sciences at University of Maryland, College Park.
Adit is a teaching assistant for BSCI330 - Cell Biology & Physiology, a class that focuses on biochemical and physiological mechanisms that underlie cellular function. Students are exposed to a variety of molecular biology techniques such as gel electrophoresis, enzyme kinetics, microscopy and spectroscopy.
His students have raved about him in the past and continue to do so because of his commitment and passion. A student of Adit's expressed their gratitude for him and said, "Cell bio lab is very long and very tiring, but you made the experience more positive for everyone in our lab. Thank you for your passion, dedication, kindness and understanding, for grading our exams faster than the speed of light, and for being funny and bringing us all a smile on a weekly basis. You are hands down my favorite TA that I've ever learned from."
Alongside being a TA, Adit's research has focused on elucidating the molecular mechanisms of dimerization of pneumococcal endolysins, enzymes that hydrolyze the bacterial cell wall. Endolysins represent an attractive alternative to antibiotics to treat multi-drug resistant bacterial infections. Not only has his research conclusively identified the dimerization mechanism of Cpl-1, a pneumococcal endolysin, but it has also led to the discovery of a wide-spread conserved binding motif seen in all pneumococcal endolysins. Currently, he is focused on evaluating the bacteriolytic potential of a novel endolysin he has discovered and benchmarking it against other endolysins.
Adit previously received the First Place J. Howard Brown Outstanding Graduate Student Abstract Award by the Maryland Branch of the American Society for Microbiology in 2022.