Congratulations to Bruce Levine for a Successful Master's Thesis Defense
Wed, May 8, 2019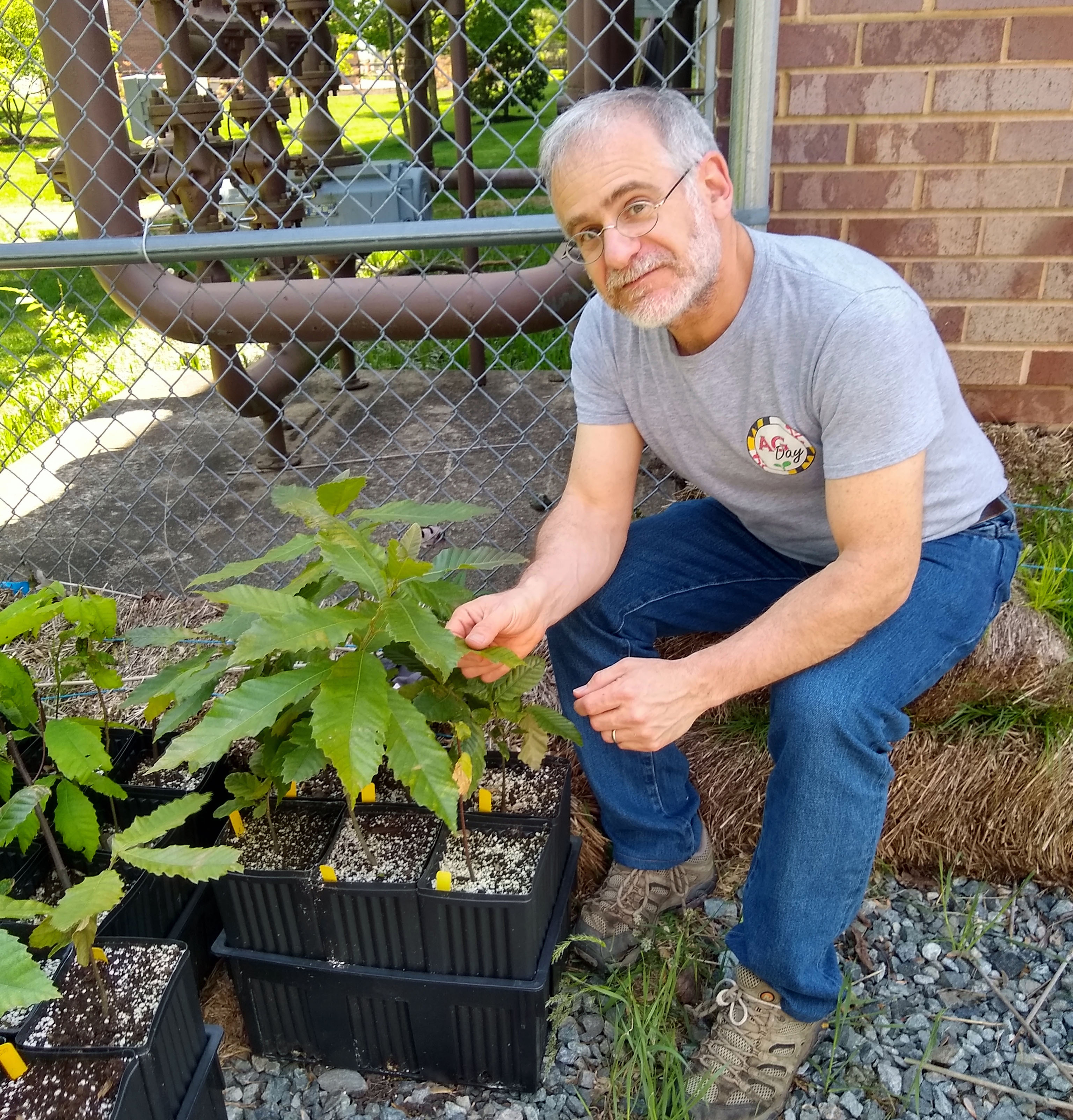 May 8, 2019 -- Please join us in congratulating Bruce Levine for successfully defending his master's thesis, "Identifying highly conserved pathogenicity genes in chestnut blight and powdery mildew fungi as targets for novel forms of host resistance," on April 17, 2019. His advisor was IBBR Fellow Dr. Shunyuan Xiao (Professor, UMCP Department of Plant Science and Landscape Architecture). He has completed his course of study within the UMCP Plant Science Graduate Program and fulfilled all of the requirements for the master's degree.  In addition, Levine was selected recently as the Outstanding Graduate Student in PSLA and is a finalist for the College of Agriculture and Natural Resources Alumni Outstanding Graduate Student Award.
"Bruce has a deep-rooted passion for helping in the fight against the deadly blight fungus that decimated the American chestnut. Before joining my lab, he served as the president of the Maryland Chapter of The American Chestnut Foundation (TACF) from 2013 to 2014, and is, in fact, still a TACF board member," said Xiao. "In order to link Bruce's interests with other research underway in our lab, we designed a unique project taking advantage of the similarities between chestnut blight fungus and Arabidopsis powdery mildew pathosystems."
Levine explains, "The project was to study the roles of genes conserved between the blight fungus and powdery mildew in the colonization of their respective hosts, American chestnut and Arabidopsis. Our findings shed light on mechanisms by which pathogenic fungi adapt to the sometimes hostile environment of a living host. In addition, we were able to identify one gene in the chestnut blight fungus that plays a clear role in pathogenesis, suggesting it as a target for the future development of resistant, transgenic chestnut trees. I greatly appreciate the opportunity to work in Dr. Xiao's lab and his creative approach to linking our research areas."
We look forward to watching Mr. Levine's contributions to the restoration of the American chestnut over the coming years.
-----
Inquiries:  communications@ibbr.umd.edu