Printer-friendly version
PDF version
July 31, 2018 -- The National Science Foundation's SemiSynBio program recently awarded $1.5 million to IBBR Fellows Dr. Bill Bentley and Dr. Greg Payne and their collaborators at University of Maryland's Institute for Systems Research, University of Nebraska, and the U.S. Army Research Laboratory. Dr. Bentley, who is also director of University of Maryland's Robert E. Fischell Institute for Biomedical Devices, serves as the project's principal investigator. This project continues a collaboration between University of Maryland engineers and IBBR scientists initiated nearly two decades ago by a generous gift from the Robert W. Deutsch Foundation.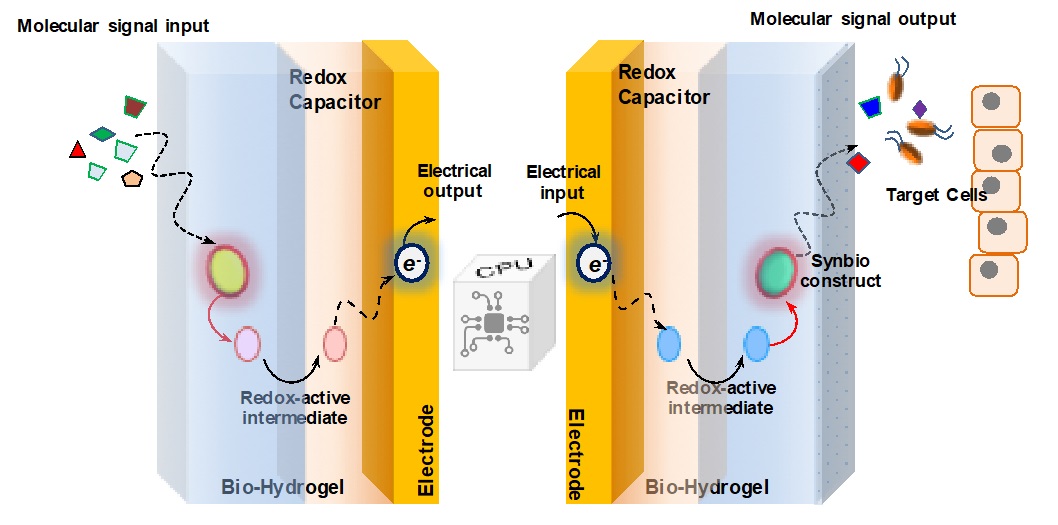 The SemiSynBio program (Semiconductor Synthetic Biology for Information Processing and Storage Technologies) is a partnership between NSF and the Semiconductor Research Corporation. Its goal is to integrate the information storage and processing capabilities of biological systems with semiconductor technology in order to increase capacity and efficiency. Eight new projects were awarded this year.
This team's unique insight is that both biology and electronic devices can communicate through reduction and oxidation reactions - referred to as "redox". Using this redox modality, the team is creating ways to establish "connectivity" between biological systems and devices. On the device-side, they use electrodes to transmit and receive redox signals while on the biology-side they are enlisting redox-sensitive genetic circuitry that cells use to receive, process, and transmit information to perceive and respond to their environment. 
Potentially, this work will enable applying the remarkable advances of information technology toward creating devices capable of communicating with living systems. Dr. Payne shares: "We want to be able to probe the activities in our guts as effectively as we can collect information from Mars 30 million miles away."
See also this news release from University of Maryland's Fischell Department of Bioengineering.
-----
Inquiries:  communications@ibbr.umd.edu