IBBR Scientist Brian Pierce Wins Best Inventor Pitch at UMD's Bioscience Day 2016
Wed, Dec 7, 2016
By Tiffany Stone
At the University of Maryland's Bioscience Day 2016, Brian Pierce, PhD., Assistant Professor, Institute for Bioscience and Biotechnology Research (IBBR), presented new rational design approaches to develop hepatitis C vaccines, winning the best inventor pitch. Pierce received a $3,000 award sponsored by UM Ventures, a joint initiative of the MPowering the State Program, that brings together the University of Maryland, Baltimore and University of Maryland, College Park to commercialize technology.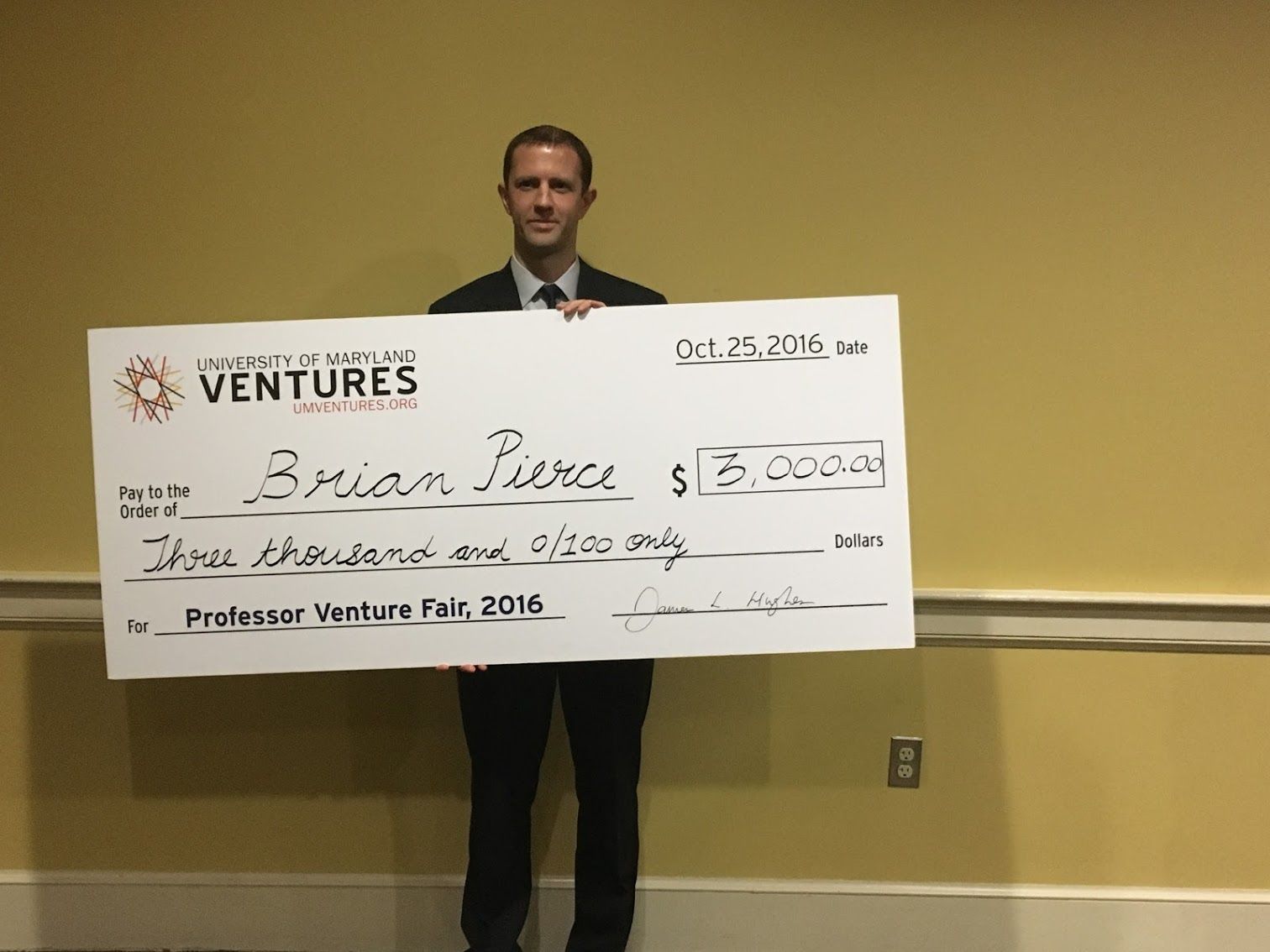 Pierce garnered the award at the Professor Venture Fair, an event that allows University of Maryland (UMD) faculty members and researchers to pitch their inventions to local venture capitalists who select the "Best Inventor Pitch" for Bioscience Day 2016.
Since 2007, UMD has annually held Bioscience Day on the College Park campus. The event provides a unique opportunity for executives and professionals in industry and government to discover UMD's most recent advances in bioscience and biotechnology.  It also promotes opportunities for academic/industry/government collaboration, provides a forum whereby university scientists can interact with graduate student researchers, and enables bioscience colleagues to network, recruit and share ideas.
Pierce's presentation showed how he uses protein docking and protein design algorithms to understand how the immune system recognizes pathogen molecules, including from the relentlessly mutating hepatitis C virus.  Using this information, he and his team have designed variations of these viral molecules that serve as ideal vaccine candidates against the hepatitis C virus, which infects nearly 3 percent of the global population, leading in many cases to liver cancer and liver disease.
"It's very exciting to me that computational protein design can be used to improve medicine and human health through engineered vaccines and biologics, and having an interdisciplinary team such as ours that can characterize and validate designs as they move toward the clinic is key," said Pierce.
His team includes IBBR Principal Investigator's Thomas Fuerst, PhD (IBBR Director); Roy Mariuzza, PhD; Eric Toth, PhD; and Steven Foung, MD, a Professor at Stanford University School of Medicine. Their work in hepatitis C virus immunity and vaccine design was recently published in the journal, Proceedings of the National Academy of Sciences of the USA, "Global Mapping of Antibody Recognition of the Hepatitis C Virus E2 Glycoprotein: Implications for Vaccine Design," available on the journal web site: (http://www.pnas.org/content/113/45/E6946.abstract).