IBBR Welcomes Dr. Bruce Yu
Mon, Sep 23, 2019
September 23, 2019 -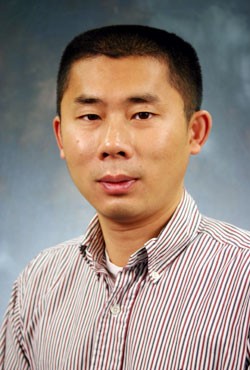 IBBR is pleased to extend a warm welcome to Dr. Bruce Yu. Dr. Yu joins IBBR from the University of Maryland School of Pharmacy, where he is Professor of Pharmaceutical Sciences and Director of the Bio- and Nano-Technology Center.
Dr. Yu's expertise is in protein biophysics and biomaterials engineering. The Yu lab is currently working to develop nondestructive analytical technologies for pharmaceutical solutions of drug substances and drug products and for product inspection. Their most recent publication involved detecting concentration variation within insulin pens using a low-field benchtop NMR to measure water proton relaxation.
Dr. Yu received a BS in Biochemistry from Peking University, a PhD in Biophysics from Johns Hopkins University, and pursued postdoctoral training in NMR spectroscopy at SUNY Buffalo and peptide chemistry at the University of Alberta. He holds several patents, including the synthesis of dendrimer imaging agents for multi-color F-19 MRI.
-----
Inquiries:  communications@ibbr.umd.edu