Printer-friendly version
PDF version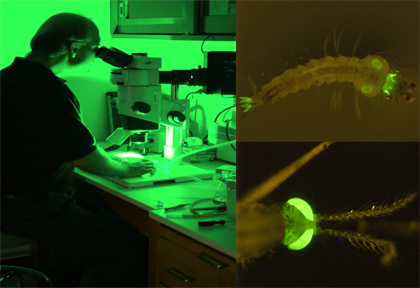 Using insect molecular science to advance human health.
IBBR's Insect Transformation Facility (ITF) promotes the advancement of insect molecular science and its application to human health and welfare.
The ITF is an international resource for the creation of genetically modified insects and development of new modification technologies, and it provides training in the use of insect modification technologies. The ITF also provides a variety of services related to the creation of transformant insects, including embryo microinjections, transformant strain production and characterization.
Our staff is skilled in creating transgenic insects such as flies of agricultural and biomedical importance, including the mosquitoes Aedes aegypti, Anopheles stephensi and Anopheles gambiae, as well as transgenic Lepidoptera and Coleoptera. The facility has been designed to be flexible and adaptable to accommodate a wide variety of projects.
Researchers with particular insects of interest are encouraged to contact the Facility to discuss options that are available to deal with your unique needs.
The ITF has the capabilities and capacity to perform all steps required for transgenic insect strain production and characterization. Collaborators are able to use some or all of the Facility's capabilities – for example, the ITF can perform insect embryo microinjections to create G0 insects that you can then rear and screen in your own laboratory.
The facility also provides consulting and training allowing researchers to use the microinjection suite to perform their own micromanipulations.
2,500 sq. ft. of laboratory space
Microinjection suite with anti-vibration tables to accomodate up to three teams of researchers
Abundant insect rearing space adjacent to microscopy and laboratory spaces
Animal facilities to house multiple species of small animals