Alexander MacKerell Recognized for His Profound Impact in the Fields of Biomolecular Simulations and Computer-Aided Drug Discovery
Tue, Mar 1, 2022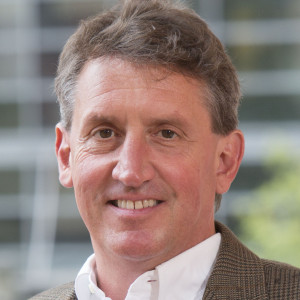 Dr. Alexander MacKerell, IBBR Fellow, Director of the Computer-Aided Drug Design (CADD) Center at the University of Maryland School of Pharmacy, and Grollman-Glick Professor of Pharmaceutical Sciences at University of Maryland, Baltimore, has received the American Chemical Society (ACS) Award for Computers in Chemical and Pharmaceutical Research. The award recognizes his profound impact in the fields of biomolecular simulations and computer-aided drug discovery.
A central focus of Dr. MacKerell's research is the continued development and extension on empirical force fields – mathematical models used to calculate the energy and forces acting on chemicals, and enhanced sampling methods for use in the simulation of biological macromolecules. Such simulations are important in advancing the understanding of how intrinsic characteristics and environmental conditions contribute to the conformational properties of proteins, nucleic acids, lipids, carbohydrates, and small molecules.
In addition to the widely used additive and polarizable force fields, his lab is involved in the development of novel CADD methods. CADD approaches are highly challenging in that they must contend with both the large conformational space of flexible macromolecular drug targets like proteins and the large chemical space of potential drug-like molecules to be screened against the target. The Site Identification by Ligand Competitive Saturation (SILCS) technology developed in the MacKerell lab generates 3-D maps of interaction patterns for chemical functional groups with a targeted molecule, information that may then be applied to many aspects of CADD. The technology has been licensed from the University of Maryland, Baltimore and is the basis for MacKerell's startup company, SilcsBio, LLC, which supplies software and CADD services to the pharmaceutical industry.
"Through the support of the University of Maryland Baltimore and IBBR our research efforts have targeted basic developments in computational chemistry and biophysics creating tools that are widely used internationally," states Dr. MacKerell. "In addition, this support has facilitated the creation of technologies such as the SILCS approach and CHARMM General Force Field that have led to our entrepreneurial efforts involving SilcsBio LLC."
"This prestigious award from the ACS is a well-deserved tribute to Dr. MacKerell's impressive body of work, which has highly impacted the growth and success of the field of computer aided drug design (CADD)," said Dr. David Weber, Co-Director of IBBR and Director of the Center for Biomolecular Therapeutics (CBT). "This includes contributions to both method and computational development as well as practical application towards therapeutic development including here at IBBR and the CBT, as well as throughout national and international drug-development communities."
MacKerell's efforts have significantly enhanced our program's impact in therapeutic design and we look forward to following his advancements in the field. He plans to attend the ACS conference in San Diego in March to accept his award.