IBBR High School Summer Interns Wrap Up a Summer of Discovery
Mon, Aug 26, 2019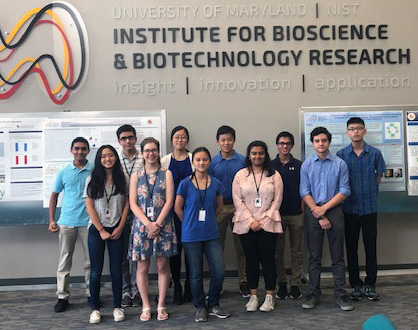 August 29, 2019 - For the 17th year, IBBR researchers hosted high school students as part of a selective summer internship program in collaboration with Montgomery County Public Schools. The program, which provides real-word experience for the students as they explore potential careers in science and technology fields, is coordinated by IBBR Fellow Dr. Alexander Grishaev (Chair, IBBR Educational Program Committee) and Ms. Lesli Adler, a science teacher at Thomas S. Wooten High School.
This summer, nine students worked with graduate students, postdoctoral researchers, and principal investigators from across IBBR's three partner institutions to gain experience with laboratory equipment and techniques, the scientific method, and working in a collaborative environment. They presented their work at a scientific poster session held on Thursday, August 15, 2019. Colleagues, peers, and family members were in attendance as the interns proudly shared the results of their eight-week projects.
This year's projects ranged from computational biology related to RNA structure modeling and creating an interface for immunology bioinformatics to applying CRISPR-Cas9 technology to study plant resistance to fungal pathogens. In line with IBBR's core strength in studying the structure and function of biomolecules, several projects involved the expression, purification, and characterization of proteins for applications ranging from structure-based vaccine design to nanotechnology.
IBBR Director Dr. Thomas Fuerst notes, "I am always impressed with our summer students' abilities, energy, and hard work. An important part of the Institute's mission is to train the future scientific and technical workforce and it is our pleasure to host and mentor the next generation of scientists, engineers, and health care professionals."
The application portal for the Summer 2020 internship program is expected to open in January 2020. Interested students should watch for updates at https://www.ibbr.umd.edu/education-training.
-----
Inquiries: communications@ibbr.umd.edu