IBBR Welcomes Dr. Yanxin Liu
Fri, Feb 18, 2022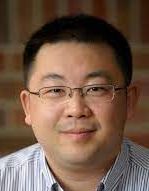 IBBR is pleased to extend a warm welcome to Dr. Yanxin Liu. Dr. Liu joins us as Assistant Professor in the Department of Chemistry & Biochemistry at University of Maryland, College Park and IBBR Fellow.
Dr. Liu's research focuses on the mechanistic understanding of chaperone-mediated protein folding and translocation. His lab employs an integrative approach that combines biophysics, biochemistry, structural biology, and computational modeling. In particular, they are specialized in emerging technologies of high-resolution single-particle cryo-electron microscopy, cryo-electron tomography, and large-scale atomistic molecular dynamics simulation.
Dr. Liu received a BS in Applied Physics from Xi'an Jiaotong University in China, a PhD in Physics at University of Illinois at Urbana-Champaign and pursued postdoctoral training in the Department of Biochemistry and Biophysics at University of California, San Francisco. We are excited to have Dr. Liu on board.